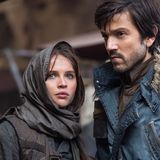 Our bittersweet ending was once more sweet than bitter.
Gary Whitta talks Star Wars: Rogue One, his novel and his lightsaber of preference.
In the year 2071, planet Earth breaks up with humanity. Not only that, she wants us to leave the house. That's the premise of After Earth, which begins one thousand years after we've packed our bags and hightailed it off the planet. And during those thousand years Earth has evolved just fine without us. So when Cypher Raige (Will Smith) and his son Kitai (played by real-life son Jaden Smith) are forced to return, our ex will do anything to make them leave. And that's where the movie fun begins.