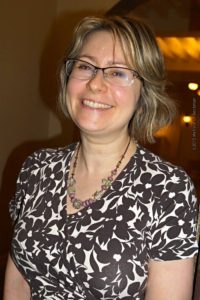 I am a freelance writer of geek culture, technology, science, and business. I currently write for Hewlett-Packard Enterprise Insights and SyFy.com (the website of the SyFy Channel). Previously, I wrote for Forbes, Geek & Sundry, and MacLife. 
Other markets include The New York Times, Time Out New York, The Fast Track, Viacom, IT World, eWeek, Hewlett-Packard, Information Week, Smart Bear, SFX, Strange Horizons, IGN, PC Gamer, Gameshark, MMO Games, The New York Review of Science Fiction, The Intergalactic Medicine Show, Lightspeed, and Battlestar Galactica magazine.
I live in New York City with my husband and our books.
A few career highlights
Appeared as a judge in an episode of the Food Network Challenge.
Interviewed celebrities such as Neil Gaiman, Matt Smith, Anthony Daniels, Gale Anne Hurd, Paul Giamatti, Daniel Craig, Lucy Lawless, and others, sometimes on camera.
Performed stand-up comedy twice.
Wrote two live-action roleplaying games.
Received three poetry award nominations.
Took photographs that were used as book and album covers.
Wrote wedding vows. (Couple is married to this day.)