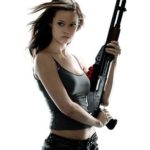 When most people hear the word "summer," they think "vacation" or "hot weather." When we hear the word "summer," we think, "Run!" That's because whenever Summer Glau appears on TV, she's either threatening to kill with her brain or using her ballerina-trained legs to back-kick her opponents in the face.
The fact that she's so disarmingly innocent-looking makes it all the more likely we'd become her victim. But she's more than an actress who can kick ass. She's also a kick-ass actress. Since she has a new series upcoming, we thought we'd take a look at why we fall for Summer.
---
ANGEL ("Waiting in the Wings")
In her first television appearance, Summer flaunted her ability to dance "en pointe" in the episode "Waiting in the Wings." It turns out her character, the Ballerina, had been cursed by the evil Count Kurskov to dance the same performance of Giselle for more than a century. Reminiscing about Giselle, the 240-something-year-old Angel said, "I cried like a baby. And I was evil."
Ultimately, the Ballerina was saved by Angel's advice to dance something new. The Ballerina distracted the Count, Angel destroyed his power center, and the Ballerina faded away, free from the need to buy pointe shoes ever again.
---
FIREFLY
For her next trick, Summer took the part of the brilliant River Tam. River was gifted at everything she did, which is why the Alliance government held her and performed cruel experiments on her. After her brother Simon liberated her, they found themselves with a price on their heads.
The character of River brought clarity to the phrase "mad skills." Everything she did she did with both ease and apparent lack of sanity. River's talents—from calculating the trajectory of bullets at a glance to distracting her crew's captors with a "mockney" accent—also included psychic abilities that went unexplored … along with a dangerous unpredictability. The other characters could only guess as to River's next move: "Either blow us all up or rub soup in our hair. It's a tossup."
---
SERENITY
Summer reprised her role as River, only this time, she brought her physicality to the table … a table that she smashed one opponent into before she beat up the rest of a bar. And then there's her encounter with the savage Reavers, in which River brought them down with a glorious swirl of knives and axes.
It turned out River's brain was intentionally damaged by the Alliance government in order to create a psychic assassin. By the end of the movie, River put to rest some of the memories that had haunted her and had more control of her faculties. She easily slipped into the role of co-pilot and flew Serenity away.
---
MAMMOTH
In this campy adventure, Summer played Jack, the scientist's daughter neglected by her father (but not her conspiracy-theorist grandfather) on her birthday. She snuck out of her house to go to a dance, and we got to see her moves, both on the dance floor and when she helped her potential boyfriend fend off two creeps. Then, when confronted by a rampaging mammoth corpse infected by an alien (honest), she turned scream queen. But really, wouldn't you?
To be honest, it wasn't much of a role, but Summer made the most out of lines like "How do you explain the zombie soul-sucking effect?"
---
THE 4400
Once again, Summer Glau sliced off a piece of the crazy pie as schizophrenic asylum-dweller Tess Doerner (who also happens to have powers of mind control). She met and aided Kevin, another inpatient with the smarts to help the 4400—those taken from the past and returned to the present. Later, she's released with proper medication.
After Kevin became invulnerable (long story), they enjoyed small-town life together, until they were forced to run again. Soon, Tess' problem reared its ugly head, and this time Kevin cared for her until she was cured by another one of the 4400.
They're in love, they're newly sane, and they have awesome powers. Really, they were made for each other.
---
SARAH CONNOR CHRONICLES
After watching Summer slash her way through Serenity, writer/producer Josh Friedman wrote the part of Cameron with her in mind. Cameron was a Terminator who, in the future, had been reprogrammed to protect teenage John Connor and sent back to the present. Cameron protected her charge—and avoided the wrath of Sarah Connor—with the mono-minded focus of previous Terminators.
But unlike other Terminators, Cameron resembled Allison, a woman who John loved in the future. The show toyed with the concept that Cameron could feel, perhaps from residual memories of Allison, but these glimpses were rare, given Cameron's status as a cybernetic organism.
Sarah and John told strangers that Cameron was John's sister. But with her inability to understand social interactions, they should have just said she was autistic.
---
DOLLHOUSE
Summer once again played a brilliant, unstable character, this time in the role of Bennett Halverson, chief programmer for the D.C. Dollhouse. Like her previous character River Tam, her words were disorganized, and she spoke to herself. Unlike pitiable River, the character of Bennett was full of hatred. And the object of her hate was Caroline, who she believed was responsible for the accident that took Bennett's arm.
Bennett's eloquence turned into awkwardness when she interacted with Topher, her counterpart in the L.A. Dollhouse. Bennett's intensity played off the manic energy of Topher, and before our eyes, we witnessed a new television show: Young Geeks in Love. But before Bennett could aid Topher, she was suddenly killed. It was sad, really. We were hoping those crazy kids would make a go of it.
---
THE CAPE
In this upcoming superhero show, Summer Glau will finally hang up her combat boots and forgo her medication. Summer plays Orwell, an investigative blogger who helps the hero, Vince, as he fights crime while trying to clear his name of a crime he didn't commit. Although an investigative blogger is likely found sitting in front of a computer, we predict that the producers won't waste Summer's physical talents by keeping her there.
The Cape will likely premiere in early 2011.